In preproduction phase:
CZECH COMEDY
Czech - Slovak film writed and directed by Fero Fenič
...HOW NOT TO BE DIFFERENT,
IF EVERYONE HAS TO STAY THE SAME...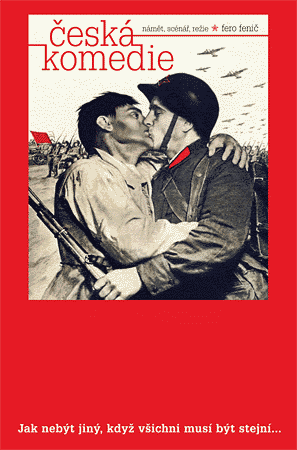 WHO?
Who's going to be on in your mind first, said Fero.
99% of viewers and 90% of Czech-documentary films characterize the producer, director and leading figure of Film and TV Febio company Fero Fenič.
Now he has decided to return to his earlist profession - direction.
The director who has made many outstanding films is coming into being.
Fero Fenič has decided to make a new Czech comedy. It's an entertaining, ironic and original story describing Totalitarian Czechoslovakia, and the a first of its kind.
WHAT?
Did all Czech films really map our recent history perfectly? Was everything really described the way it happened during this strange period?
No it wasn't. It can never be described to the extent necessary in order that all audiences can fully understand. Every historical period has consisted of numerous individual stories. Every individual experienced life at this time in a different light. Every human has a different life.
This Czech comedy focuses on Bohemia during the 1940s-1960s. It describes the point of view of those who chose to think diffrently from the rest of society. At that time, any difference was dangerous. Under any form of suppression, every person has the gift to find something that can help them survive.
For many of us, it is humour. This humour is sometimes unwanted and has a bitter taste, but it is this humour that helps people overcome their suppression.
It is this idelology that many people regard as Czech comedy. It maps out this period of Czech history with the kind of relaxed laughter that is special to the Czechs.
DIRECTOR´S INTERPRETATION
If there is success in opening an impressive, historical theme that reveals the inner structure of the given topic through its character, then this will prove to be the basis for an excellent film.
The absurdity of the 1950s and the tragi-comedy of the 1960s, together with the search for personal identity, coping with differences between individuals from a major company, are described with the specific and typical Czech sense of humour. This humour comes from the popular, famously legendary scenes from Czech films such as "Czech comedy."
Its script was awarded by a jury comprising the most respected Czech professionals in the screenwriting industry called "Český lev" "Cena sazky."
An impressive story, at its core very Czech, which is internationally comprehensible and mobile.
Its deep humanity and unpassing honesty speak to people with our mentality.
The "Czech comedy" has the chance to attract international attention beyond Czech borders.
Furthermore, an imposing story describing historical tragedy and private destiny such as this has been missing in the Czech film industry until now.

This film, in particular, offers Czech viewers something unique: loyalty to its film name. There are well-known scenes in the story that refer to the famous Czech comedies but in a completely different context! It's an original idea which hasn't been used in any Czech film to date and it offers a very surprising humorous approach.
PRODUCERS
The main film producer is the company Film and TV FEBIO.
They are the largest and most successful producer of independent documentary production in Central Europe.
FEBIO has produced nearly 1,000 writer-director documentaries within the last 12 years since the company was founded. We could mention particularly successful TV series such as: GEN, OKO, Jak se žije, Zpověď, Cestománie, Česká soda etc.
The feature-length film made by FEBIO (the feature version of "Česká soda" - the first film in the CR copied from video for 35 mm!) was the most popular Czech film of 1998 and one of the few particularly lucrative "post-Revolution" Czech films.
CO - PRODUCERS
The Barrandov film studios have been interested in co-producing the Czech comedy (ensuring technical support), plus several Slovak companies; negotiations are still underway.
The State Fund for the Support of Czech Cinematography and the SR Ministry of Culture's Grant System - the "Audiovízia 2004" programme - will be requested for a financial grant.
OFFER FOR FINANCIAL PARTNERS
General sponsor
….presents
The general sponsor is always presented with the film. The presentation space is always equal to sum of the spaces allotted to other sponsors.
Rights for the use of the main movie motif for own promotional activites (final form is subject to the filmmaker's approval).
A guaranteed exlusive of the general sponsor in the sector.
Main sponsors
…are presented along with the film.
Presentation is dependent on sponsorsip share. Rights to a cooperation presentation ofthe film at own promo-activities.
OFFERING COOPERATION IN PARTNERSHIP
Product placement
To be presented along with the film is fine. But to present my own products directly in the film is much better.
Those who go to see the film naturally accept the role of products in the film and they use the same products in their subsequent activities in order to associate themselves the main character.
Our film is historical, which might mean that product placement doesn't apply in this case.
In our opinion, the opposite is true.
There are lots of brands which have survived into the present.
And there are lots of brands which we'd only dreamed about and now we've got them all around us.
And it's these brand names which have plenty of opportunity to present themselves in a much less aggressive way than in films set in the present, since consumers will perceive the brands in a historical context and will be open to their reception.
CONTACT
Fero Fenič
Director, Producer
tel.: + 420/224 214 254
e-mail: fenic@febio.cz

Marcela Olmerová
Partnership relations
cell: +42O/602 211 466
e-mail: olmerova@febio.cz

Zbyněk Olmer
Creative Director
of IDMZ s.r.o.
Pod vilami 22, Praha 4, CZ
tel.: +420/241 740 471