Although I was born into a family home with a large garden, I never had my own room. This wasn't the custom for East Slovak village families. Perhaps also because we didn't have central heating, and it wouldn't have been economical to heat all the rooms in winter.
I had a certain degree of privacy for the first time in my life after reaching the age of eighteen, at university halls of residence in Mlýnská dolina in Bratislava. I had a three-bed room on the 10th floor of one of those "modern Socialist" student accommodation buildings. I spent three years here and it was a building site the whole time.

My transfer to Prague seemed like a miracle in comparison; I went off to the Czech capital to study at FAMU, and I was given student accommodation in a 19th century building in Jenštejnská street in Prague 2, not far from the banks of the Vltava. Everything was nearby: the college, cinemas and theatres, and the pubs.
For the last two years of my studies I was able to live in AMU's own halls of residence in Hradební street in Prague 1. Every day I walked to my classes across the Old Town Square or just across the street to the college studio. I was so spoiled by this time that I couldn't imagine living anywhere else except in the centre of an old city.
I didn't have to leave Prague even during my military service - I and some of my colleagues were assigned to Czechoslovak Army Film and we lived in its main offices - on the Hlubočepy estate in Prague 5.
It was at this time that I managed to swap my sister's three-roomed cooperative flat in Košice for a small flat in Michle in Prague 4. But, from the very beginning, I saw this pleasant three-storey house in the leafy suburbs, not far from Kačerov metro station, only as a stop-over, since I'd never known anything else but the centre of Prague since I arrived in the city.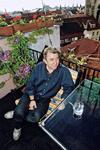 This stop-over lasted six years, before I was able to find a romantic two-room attic flat near the Old Town Square. The house itself was originally built back in the 14th century. I reconstructed the flat myself for a year.
The view out onto the roofs of the Old Town had a magical power which helped me overcome my depression from that era and gave me hope in its transience - like the history of all the old houses around there...
When ownership rights were affected by the Velvet Revolution, I acquired further property in the house adjacent to, above and below my own flat. So I was able, during the first half of the 1990s, to finally create the flat I had always dreamed of, even with a much longed-for terrace, from where I look out onto the hundreds of towers of golden Prague...
I feel that I'll never leave this place.
---